We want to introduce you to our new game Galacticon launched a few months ago on Nintendo Switch and Steam.
After the great reception and the great reviews that the game has had at its launch, and realizing that your media
does not have a review for Galacticon, we would be delighted if you accepted a key to be able to review the game or whatever you had in mind
Galacticon is a video game with the look and feel of the arcade cabinet games of early 80's in the style of the Williams classics: "Defender" or "Joust", with the gameplay of the legendary "Jetpac", and with touches of "puzzle" to get more bonus points and enter your score in the local table of high scores or even in the world table of
records.
Key for reviews

:

 

Please send us an email with the request to 
press@flynnsarcades.com
and immediately and gladly we will send you a game key.
Features:

World high score table through QR code reading. 

Incredible gameplay.

Direct and frenetic action.

Aesthetics of 8 bits.

Infinite levels with a progressive difficulty curve.

Extremely precise and smooth control.

Easy to play… difficult to master.

Optimized for arcade machines and arcade controllers.

Secret Bonus in each level.
Some data:
Nintendo US eShop:

LINK


Nintendo EU eShop:

 LINK

Steam Store:

LINK

Developer:

Radin Games


Publisher:

Flynn's Arcade

(America & Europe),

Pikki

(Asia)



Platforms: Nintendo Switch & Steam


Release date: 22/05/2022

Price: 4,99€/$, 4,99£ 

Languages: English, Korean, Japanese & Chinese (fully dubbed)

Age rating: Everybody


Press contact:

press@flynnsarcades.com

Trailer:

LINK

Independent and very complete video-review:

LINK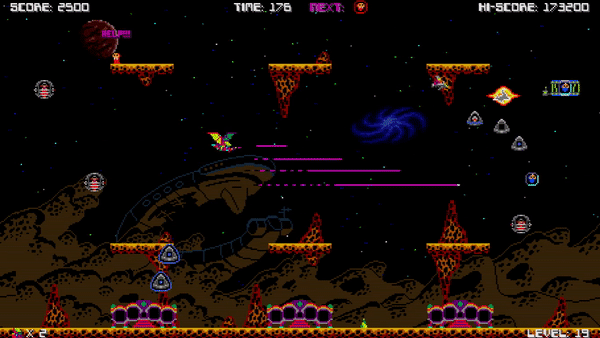 Thank you very much for your attention!

Ferran Montesinos (CEO Radin games)
Mail: info radingames.com